Each and every year, staff members need to complete training in three areas:
Response to Bullying Behavior
OCR
Bloodborne Pathogens
In order to facilitate flexibility, these courses are available for staff online. Every staff member should've received badges last year. These will be showing up as expired now.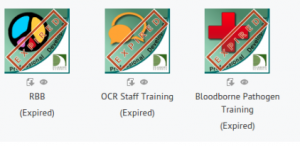 The new courses are now available for the 2015-2016 school year. Once you sign into iLearn, you will see a link to the three required courses. Please follow the directions carefully for each course.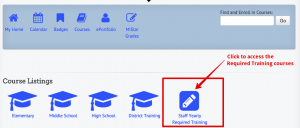 Once you have completed a course, you will automatically receive a badge (please note that it may take up to a half hour for the badge to appear). You need to acquire all three badges.